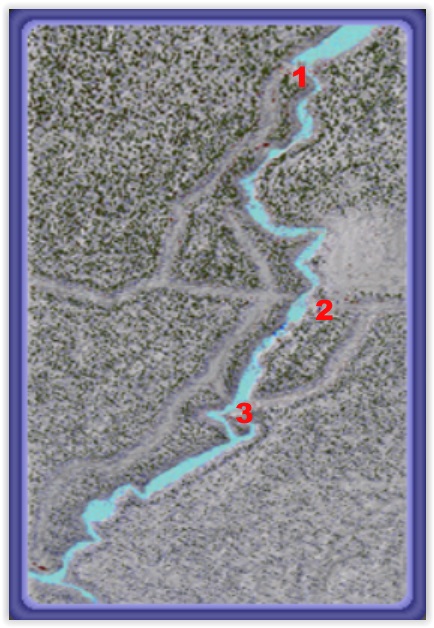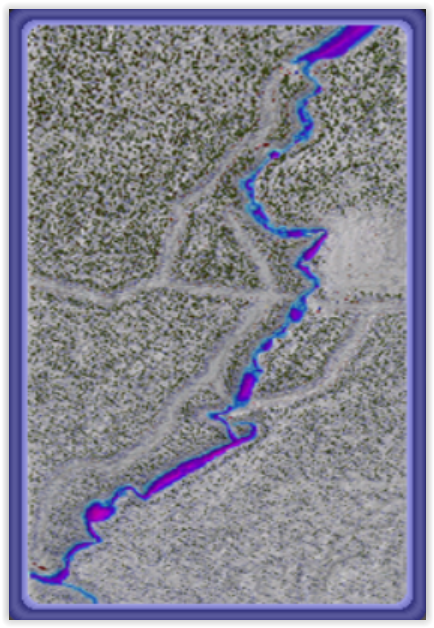 Lake: Kivijoki
Start Places:
Jokisuvanto

1

Kellokoski

2

Ryhäjoki

3
Description:
Lake:
Kivijoki is a shallow river consisting of several pools, rapids and slowly streaming sections. The stream originates form (from) the lakes of the surrounding swamps which gives the water it's dark color. Occasional low oxygen level in water forces fish to select places near the rapids.
Fishing:
The pike and the perch are the most common fish. Pikes are generally small and some places of the river are over-crowded by them. Bigger pikes are more rare, but a couple of tasty fish tales have been originated from them. The average size of the perch is small as well, but some grown up ones exist in shoals.
Fish:
Perch, Pike, Roach, Ruffe, Dace, Bleak.
Species / obtained: 6 / 6
---
TOP-5 Largest fish by species
| | Rank | Player | Weight | Species | Lake | Date |
| --- | --- | --- | --- | --- | --- | --- |
| | 1. | sasliks222 | 855 g | Perch | Kivijoki | 31.12.2013 |
| | 2. | ED | 822 g | Perch | Kivijoki | 09.12.2015 |
| | 3. | Terminator | 802 g | Perch | Kivijoki | 17.07.2013 |
| | 4. | rk82 | 800 g | Perch | Kivijoki | 24.03.2014 |
| | 5. | veijo-vaari | 795 g | Perch | Kivijoki | 08.09.2016 |
| | 1. | Flanker C | 5242 g | Pike | Kivijoki | 06.11.2013 |
| | 2. | (C)JAWI | 3773 g | Pike | Kivijoki | 22.05.2013 |
| | 3. | Bany | 2696 g | Pike | Kivijoki | 10.11.2014 |
| | 4. | Borisych | 2613 g | Pike | Kivijoki | 28.04.2013 |
| | 5. | Tomaso | 2374 g | Pike | Kivijoki | 06.05.2014 |
| | 1. | Antti | 99 g | Ruffe | Kivijoki | 16.12.2013 |
| | 2. | Vova Minsk (BLR) | 98 g | Ruffe | Kivijoki | 06.03.2014 |
| | 3. | AIMO VAPA | 98 g | Ruffe | Kivijoki | 09.10.2016 |
| | 4. | Metu | 97 g | Ruffe | Kivijoki | 05.10.2014 |
| | 5. | Tössö | 97 g | Ruffe | Kivijoki | 06.05.2018 |
| | 1. | Mistika | 47 g | Bleak | Kivijoki | 19.04.2013 |
| | 2. | Privet | 45 g | Bleak | Kivijoki | 25.04.2013 |
| | 3. | Ded 1 | 43 g | Bleak | Kivijoki | 05.10.2019 |
| | 4. | KAZARAGS.LV2 | 40 g | Bleak | Kivijoki | 21.12.2013 |
| | 5. | Taku | 40 g | Bleak | Kivijoki | 09.01.2014 |
| | 1. | PP Galle | 479 g | Roach | Kivijoki | 04.10.2019 |
| | 2. | Happikato | 438 g | Roach | Kivijoki | 12.12.2016 |
| | 3. | arturs | 432 g | Roach | Kivijoki | 26.10.2018 |
| | 4. | Mistika | 422 g | Roach | Kivijoki | 06.05.2013 |
| | 5. | Pesukarhu- | 419 g | Roach | Kivijoki | 19.08.2018 |
| | 1. | Juku6.1 (A) | 81 g | Dace | Kivijoki | 26.01.2020 |
| | 2. | Sevy | 80 g | Dace | Kivijoki | 08.02.2019 |
| | 3. | pekka221 | 80 g | Dace | Kivijoki | 25.01.2020 |
| | 4. | J. Alho | 79 g | Dace | Kivijoki | 18.02.2018 |
| | 5. | kams | 79 g | Dace | Kivijoki | 14.12.2018 |
TOP-5 Best results in total weight
| | Rank | Time/Min. | Player | Weight | Lake | Date |
| --- | --- | --- | --- | --- | --- | --- |
| | 1. | 10 | Bany | 1954 g | Kivijoki | 26.12.2013 |
| | 2. | 10 | Pefletti | 1906 g | Kivijoki | 24.08.2013 |
| | 3. | 10 | Pille | 1866 g | Kivijoki | 11.11.2018 |
| | 4. | 10 | (C)JAWI | 1848 g | Kivijoki | 06.02.2014 |
| | 5. | 10 | Cars | 1772 g | Kivijoki | 31.07.2013 |
| | 1. | 15 | ihis | 3435 g | Kivijoki | 25.01.2015 |
| | 2. | 15 | AlexeyRAOH | 3422 g | Kivijoki | 21.11.2013 |
| | 3. | 15 | Remi | 3409 g | Kivijoki | 21.11.2019 |
| | 4. | 15 | Ribka | 3366 g | Kivijoki | 14.08.2017 |
| | 5. | 15 | ISAENN | 3302 g | Kivijoki | 22.06.2018 |
| | 1. | 30 | Flanker C | 6718 g | Kivijoki | 06.11.2013 |
| | 2. | 30 | Tukas | 5989 g | Kivijoki | 24.12.2015 |
| | 3. | 30 | chudy | 5515 g | Kivijoki | 23.12.2013 |
| | 4. | 30 | Aspius | 5493 g | Kivijoki | 14.05.2013 |
| | 5. | 30 | -heikki- | 5395 g | Kivijoki | 23.06.2013 |
| | 1. | 60 | Flanker C | 10999 g | Kivijoki | 26.12.2015 |
| | 2. | 60 | Bany | 8584 g | Kivijoki | 21.09.2014 |
| | 3. | 60 | Anatoliu RUS | 8574 g | Kivijoki | 01.12.2013 |
| | 4. | 60 | Tössö | 7326 g | Kivijoki | 08.12.2018 |
| | 5. | 60 | Cars | 7023 g | Kivijoki | 31.07.2013 |
| | 1. | 90 | Cars | 7702 g | Kivijoki | 06.08.2013 |
| | 2. | 90 | Ozzman | 6507 g | Kivijoki | 14.01.2020 |
| | 3. | 90 | Lupu 10 | 6466 g | Kivijoki | 05.05.2019 |
| | 1. | 120 | Ozzman | 9894 g | Kivijoki | 05.02.2019 |
| | 2. | 120 | Lupu 10 | 7041 g | Kivijoki | 17.08.2019 |
| | 3. | 120 | ESME | 6949 g | Kivijoki | 12.02.2019 |
| | 4. | 120 | Kuha-Kalle | 5413 g | Kivijoki | 16.02.2019 |