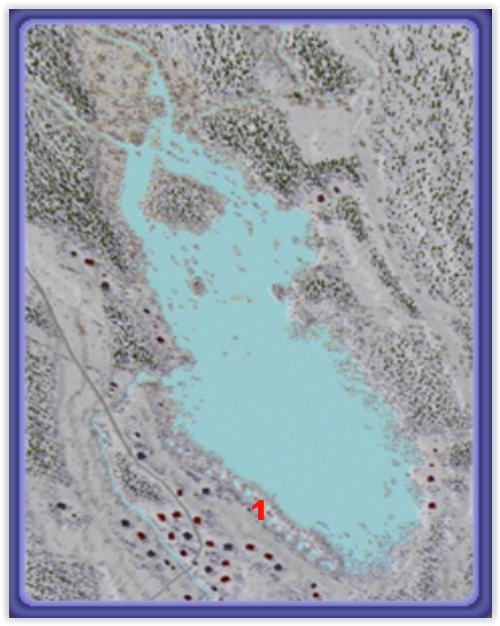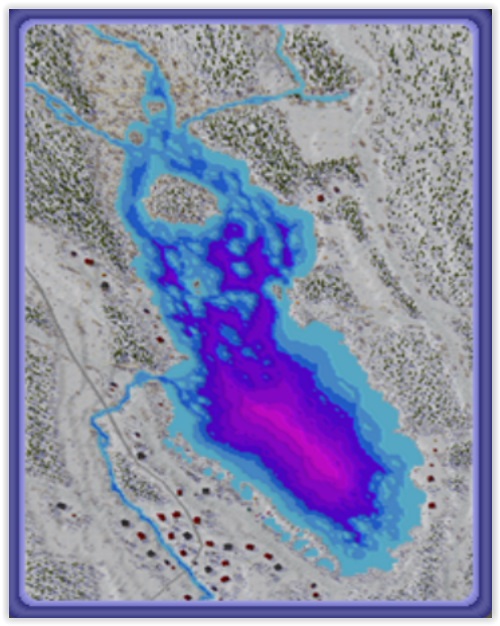 Lake: Palusjärvi
Start Places:
Description:
Lake:
Palusjärvi is a very shallow and eutrophic lake, but its water quality is still reasonably good. Water flows into the lake from swamps and fields, so the water is coloured by humus. Water level has been risen with a submerged dam and the water level is controlled heavily.
Fishing:
The lake has a strong perch and roach population. Mainly these fish are small with bigger ones here and there. Pikes are numerous in certain locations, but bigger ones are more rare. Various carp family fish live in the lake. There is a zander population in the lake as well, but they are uncommon to catch with a lure.
Fish:
Perch, Roach, Silver Bream, Ruffe, Bream, Bleak, Rudd, Pike, Crucian Carp, Zander, Tench.
Species / obtained: 11 / 11
---
TOP-5 Largest fish by species
| | Rank | Player | Weight | Species | Lake | Date |
| --- | --- | --- | --- | --- | --- | --- |
| | 1. | DUrttu | 816 g | Perch | Palusjärvi | 17.03.2019 |
| | 2. | Marja | 813 g | Perch | Palusjärvi | 10.01.2020 |
| | 3. | antecessor | 807 g | Perch | Palusjärvi | 03.12.2019 |
| | 4. | Muuli | 800 g | Perch | Palusjärvi | 16.02.2020 |
| | 5. | JUGI1 | 793 g | Perch | Palusjärvi | 26.10.2019 |
| | 1. | Juku6.1 (A) | 2862 g | Pike | Palusjärvi | 06.10.2019 |
| | 2. | Bender (C) | 2506 g | Pike | Palusjärvi | 19.03.2019 |
| | 3. | Take | 2295 g | Pike | Palusjärvi | 17.06.2019 |
| | 4. | sallu | 2092 g | Pike | Palusjärvi | 02.01.2020 |
| | 5. | Marja | 2047 g | Pike | Palusjärvi | 06.10.2019 |
| | 1. | Puru | 47 g | Ruffe | Palusjärvi | 30.04.2019 |
| | 2. | KuKa | 47 g | Ruffe | Palusjärvi | 26.12.2019 |
| | 3. | Kettu | 47 g | Ruffe | Palusjärvi | 12.02.2020 |
| | 4. | AVG | 46 g | Ruffe | Palusjärvi | 14.02.2019 |
| | 5. | Anakondah Jr (C) | 46 g | Ruffe | Palusjärvi | 14.02.2019 |
| | 1. | Vesisonni | 1669 g | Zander | Palusjärvi | 05.04.2019 |
| | 2. | pjoz | 1592 g | Zander | Palusjärvi | 31.03.2019 |
| | 3. | Terminator | 1575 g | Zander | Palusjärvi | 19.09.2019 |
| | 4. | kala-ukko | 1551 g | Kuha | Palusjärvi | 31.10.2019 |
| | 5. | Björnis | 1526 g | Zander | Palusjärvi | 15.06.2019 |
| | 1. | Happikato | 1231 g | Bream | Palusjärvi | 10.12.2019 |
| | 2. | RiF | 1107 g | Bream | Palusjärvi | 04.08.2019 |
| | 3. | Pefletti | 1046 g | Bream | Palusjärvi | 03.01.2020 |
| | 4. | Bender (C) | 1024 g | Bream | Palusjärvi | 10.01.2020 |
| | 5. | Termis | 1021 g | Bream | Palusjärvi | 17.02.2019 |
| | 1. | sharps | 163 g | Silver bream | Palusjärvi | 19.02.2019 |
| | 2. | Bengan | 163 g | Silver bream | Palusjärvi | 13.03.2019 |
| | 3. | Trapant | 163 g | Silver bream | Palusjärvi | 13.03.2019 |
| | 4. | Kergoodoo_Bambarbiya | 160 g | Silver bream | Palusjärvi | 23.07.2019 |
| | 5. | kala-akka | 159 g | Silver bream | Palusjärvi | 06.10.2019 |
| | 1. | lareman | 489 g | Crucian carp | Palusjärvi | 02.10.2019 |
| | 2. | aku ankka | 481 g | Crucian carp | Palusjärvi | 22.12.2019 |
| | 3. | Pikachu | 478 g | Crucian carp | Palusjärvi | 14.10.2019 |
| | 4. | Bender (C) | 472 g | Crucian carp | Palusjärvi | 13.03.2019 |
| | 5. | figaro5903 | 464 g | Crucian carp | Palusjärvi | 31.03.2019 |
| | 1. | Quu_Ukko | 21 g | Bleak | Palusjärvi | 09.10.2019 |
| | 2. | Nesmeyana | 20 g | Bleak | Palusjärvi | 11.03.2019 |
| | 3. | Mogge | 20 g | Bleak | Palusjärvi | 19.03.2019 |
| | 4. | hamipekka | 20 g | Bleak | Palusjärvi | 08.04.2019 |
| | 5. | K.O.W.K.A | 20 g | Bleak | Palusjärvi | 30.04.2019 |
| | 1. | lareman | 153 g | Roach | Palusjärvi | 13.03.2019 |
| | 2. | Oper (A) | 152 g | Roach | Palusjärvi | 14.02.2019 |
| | 3. | ezh | 150 g | Roach | Palusjärvi | 17.02.2020 |
| | 4. | Valmin (A) | 148 g | Roach | Palusjärvi | 13.03.2019 |
| | 5. | barbadun | 148 g | Roach | Palusjärvi | 11.09.2019 |
| | 1. | Tiikeri2 | 324 g | Rudd | Palusjärvi | 11.12.2019 |
| | 2. | *Memmu* | 323 g | Rudd | Palusjärvi | 14.06.2019 |
| | 3. | papa lv | 322 g | Rudd | Palusjärvi | 09.02.2020 |
| | 4. | AVL | 321 g | Rudd | Palusjärvi | 17.02.2019 |
| | 5. | Vidas | 320 g | Rudd | Palusjärvi | 05.01.2020 |
| | 1. | aku ankka | 834 g | Tench | Palusjärvi | 02.01.2020 |
| | 2. | Jari Pekka | 784 g | Tench | Palusjärvi | 03.01.2020 |
| | 3. | Anakondah Jr (C) | 783 g | Tench | Palusjärvi | 24.09.2019 |
| | 4. | Krepok | 763 g | Tench | Palusjärvi | 13.03.2019 |
| | 5. | Jäynä Möinen | 763 g | Tench | Palusjärvi | 16.02.2020 |
TOP-5 Best results in total weight
| | Rank | Time/Min. | Player | Weight | Lake | Date |
| --- | --- | --- | --- | --- | --- | --- |
| | 1. | 10 | Kenny | 2417 g | Palusjärvi | 30.06.2019 |
| | 2. | 10 | Bany | 2226 g | Palusjärvi | 09.10.2019 |
| | 3. | 10 | barbadun | 2073 g | Palusjärvi | 08.09.2019 |
| | 4. | 10 | Pefletti | 2000 g | Palusjärvi | 28.01.2020 |
| | 5. | 10 | andyfischer | 1988 g | Palusjärvi | 12.10.2019 |
| | 1. | 15 | Kenny | 4098 g | Palusjärvi | 11.07.2019 |
| | 2. | 15 | ESME | 3836 g | Palusjärvi | 19.03.2019 |
| | 3. | 15 | Teemu (Procyon II) | 3814 g | Palusjärvi | 13.02.2019 |
| | 4. | 15 | Bender (C) | 3556 g | Palusjärvi | 14.03.2019 |
| | 5. | 15 | ISAENN | 3430 g | Palusjärvi | 16.06.2019 |
| | 1. | 30 | Cris | 11003 g | Palusjärvi | 14.03.2019 |
| | 2. | 30 | Pedro Lat | 7697 g | Palusjärvi | 27.04.2019 |
| | 3. | 30 | aku ankka | 6915 g | Palusjärvi | 16.02.2019 |
| | 4. | 30 | Bender (C) | 6882 g | Palusjärvi | 08.04.2019 |
| | 5. | 30 | total | 6757 g | Palusjärvi | 01.07.2019 |
| | 1. | 60 | Bender (C) | 9617 g | Palusjärvi | 22.03.2019 |
| | 2. | 60 | Valmin (A) | 7540 g | Palusjärvi | 18.03.2019 |
| | 3. | 60 | valdoo | 6707 g | Palusjärvi | 15.05.2019 |
| | 4. | 60 | Lupu 10 | 6584 g | Palusjärvi | 19.01.2020 |
| | 5. | 60 | ALEX-74 | 6314 g | Palusjärvi | 18.02.2019 |
| | 1. | 90 | Kuha-Kalle | 8513 g | Palusjärvi | 13.11.2019 |
| | 2. | 90 | Lupu 10 | 7092 g | Palusjärvi | 13.05.2019 |
| | 1. | 120 | Ozzman | 14850 g | Palusjärvi | 19.02.2019 |
| | 2. | 120 | ESME | 13463 g | Palusjärvi | 29.01.2020 |
| | 3. | 120 | ALEX-74 | 9213 g | Palusjärvi | 22.04.2019 |
| | 4. | 120 | Lupu 10 | 7420 g | Palusjärvi | 09.03.2019 |
| | 5. | 120 | Kuha-Kalle | 6475 g | Palusjärvi | 22.04.2019 |