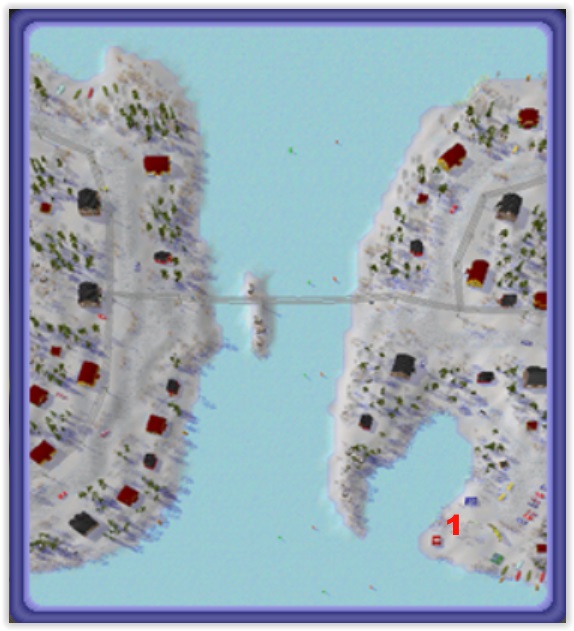 Lake: Kuikansalmi
Start Places:
Description:
Lake:
Kuikansalmi is a narrow but deep strait between two bigger lakes. Water current in the narrows is quite strong, but during winters, ice gets still strong enough for fishing.
Fishing:
Main fishing target is a big perch but other species can be found as well. High water level and fast water flow during autumns bring trout and white fish to the area. But when the spring approaches, roach and similar fish occupy the best places. Occasionally a few rainbow trout are put to the nearhood of the rapids, causing a snap of the thin fishing lines. Also other species can be found, but they are more rare.
Fish:
Perch, Roach, Ruffe, Bleak, Trout, White Fish, Rainbow Trout, Pike, Smelt, Silver Bream, Bream, Ide, Asp, Burbot.
Species / obtained: 14 / 15 (Crucian carp)
---
TOP-5 Largest fish by species
| | Rank | Player | Weight | Species | Lake | Date |
| --- | --- | --- | --- | --- | --- | --- |
| | 1. | Tonza_888 | 1334 g | Perch | Kuikansalmi | 21.03.2016 |
| | 2. | Juku6.1 (A) | 1322 g | Perch | Kuikansalmi | 18.09.2015 |
| | 3. | Tomaso | 1296 g | Perch | Kuikansalmi | 15.04.2013 |
| | 4. | Perttu | 1274 g | Perch | Kuikansalmi | 22.10.2013 |
| | 5. | dafury | 1264 g | Perch | Kuikansalmi | 06.05.2013 |
| | 1. | Kuke | 1665 g | Pike | Kuikansalmi | 02.12.2016 |
| | 2. | "Anakonda" | 1425 g | Pike | Kuikansalmi | 03.08.2018 |
| | 3. | kala-ukko | 1415 g | Pike | Kuikansalmi | 20.12.2017 |
| | 4. | Olteri | 1352 g | Pike | Kuikansalmi | 17.11.2017 |
| | 5. | aku ankka | 1297 g | Pike | Kuikansalmi | 03.03.2018 |
| | 1. | lareman | 57 g | Ruffe | Kuikansalmi | 12.11.2017 |
| | 2. | Olteri | 56 g | Ruffe | Kuikansalmi | 17.02.2020 |
| | 3. | Firefox | 49 g | Ruffe | Kuikansalmi | 07.03.2019 |
| | 4. | Kuha-Kalle | 48 g | Ruffe | Kuikansalmi | 23.02.2019 |
| | 5. | nortsu | 48 g | Ruffe | Kuikansalmi | 28.04.2019 |
| | 1. | kala-ukko | 2439 g | Rainbow trout | Kuikansalmi | 17.11.2015 |
| | 2. | Sevy | 2413 g | Rainbow trout | Kuikansalmi | 26.01.2017 |
| | 3. | Mr_hanky | 2399 g | Rainbow trout | Kuikansalmi | 04.05.2017 |
| | 4. | Kalervo | 2395 g | Rainbow trout | Kuikansalmi | 20.04.2013 |
| | 5. | Regull | 2394 g | Rainbow trout | Kuikansalmi | 27.06.2013 |
| | 1. | Makko | 21 g | Smelt | Kuikansalmi | 21.04.2014 |
| | 2. | Kettu | 21 g | Smelt | Kuikansalmi | 19.01.2017 |
| | 3. | K.K.Kojootti | 21 g | Smelt | Kuikansalmi | 18.02.2017 |
| | 4. | eemail | 21 g | Smelt | Kuikansalmi | 18.02.2020 |
| | 5. | zanis | 20 g | Smelt | Kuikansalmi | 31.05.2013 |
| | 1. | 19dim84 | 948 g | Bream | Kuikansalmi | 19.08.2019 |
| | 2. | Tössö | 931 g | Bream | Kuikansalmi | 17.11.2017 |
| | 3. | Matikka Koira | 925 g | Bream | Kuikansalmi | 25.02.2017 |
| | 4. | *Kharon* | 870 g | Bream | Kuikansalmi | 06.11.2016 |
| | 5. | ALEX-74 | 859 g | Bream | Kuikansalmi | 31.07.2019 |
| | 1. | Evs 37 [RUS] | 3100 g | Burbot | Kuikansalmi | 03.04.2014 |
| | 2. | LeaTee | 3037 g | Burbot | Kuikansalmi | 13.09.2013 |
| | 3. | JMT | 2861 g | Burbot | Kuikansalmi | 17.08.2015 |
| | 4. | LD50FIN | 2826 g | Burbot | Kuikansalmi | 12.07.2018 |
| | 5. | Aimo | 2805 g | Burbot | Kuikansalmi | 19.01.2014 |
| | 1. | joonapro | 424 g | Silver bream | Kuikansalmi | 29.08.2013 |
| | 2. | Len | 424 g | Silver bream | Kuikansalmi | 11.10.2013 |
| | 3. | sven | 424 g | Silver bream | Kuikansalmi | 03.03.2014 |
| | 4. | beret | 422 g | Silver bream | Kuikansalmi | 04.06.2013 |
| | 5. | ESME | 422 g | Silver bream | Kuikansalmi | 22.12.2019 |
| | 1. | veijo-vaari | 589 g | Crucian carp | Kuikansalmi | 06.01.2015 |
| | 2. | Karhunkaataja | 583 g | Crucian carp | Kuikansalmi | 11.07.2015 |
| | 3. | Tapio nissinen | 570 g | Crucian carp | Kuikansalmi | 04.02.2016 |
| | 4. | Marja | 570 g | Crucian carp | Kuikansalmi | 14.04.2018 |
| | 5. | onkimees | 556 g | Crucian carp | Kuikansalmi | 09.10.2013 |
| | 1. | Epi | 17 g | Bleak | Kuikansalmi | 02.12.2018 |
| | 2. | Pilkkijä99 | 14 g | Bleak | Kuikansalmi | 26.01.2014 |
| | 3. | Annukka84 | 14 g | Bleak | Kuikansalmi | 26.05.2019 |
| | 4. | mazkass | 13 g | Bleak | Kuikansalmi | 18.05.2013 |
| | 5. | Mii911 | 12 g | Bleak | Kuikansalmi | 18.11.2016 |
| | 1. | Ylli | 260 g | Roach | Kuikansalmi | 17.02.2016 |
| | 2. | LD50 FIN | 247 g | Roach | Kuikansalmi | 15.02.2017 |
| | 3. | Karhunkaataja | 246 g | Roach | Kuikansalmi | 02.07.2016 |
| | 4. | Olteri | 231 g | Roach | Kuikansalmi | 17.01.2017 |
| | 5. | Anr | 227 g | Roach | Kuikansalmi | 08.10.2013 |
| | 1. | Jompsa | 553 g | Ide | Kuikansalmi | 10.01.2017 |
| | 2. | Bul*var | 540 g | Ide | Kuikansalmi | 15.01.2015 |
| | 3. | Chups | 537 g | Ide | Kuikansalmi | 08.10.2016 |
| | 4. | max33 | 536 g | Ide | Kuikansalmi | 13.10.2013 |
| | 5. | Annihelena | 535 g | Ide | Kuikansalmi | 20.09.2014 |
| | 1. | Anakondah Jr (C) | 507 g | Whitefish | Kuikansalmi | 04.08.2017 |
| | 2. | Schape | 464 g | Whitefish | Kuikansalmi | 28.10.2014 |
| | 3. | Jycce | 463 g | Whitefish | Kuikansalmi | 17.11.2017 |
| | 4. | Alex26rus | 454 g | Whitefish | Kuikansalmi | 27.12.2013 |
| | 5. | _jarppa_ | 451 g | Whitefish | Kuikansalmi | 12.02.2020 |
| | 1. | LEON(47RUS) | 2814 g | Trout | Kuikansalmi | 02.02.2015 |
| | 2. | Klapa | 2788 g | Trout | Kuikansalmi | 07.09.2013 |
| | 3. | Alex26rus | 2766 g | Trout | Kuikansalmi | 27.01.2014 |
| | 4. | KLAIDONIS(LV) | 2719 g | Trout | Kuikansalmi | 26.09.2014 |
| | 5. | yural | 2711 g | Trout | Kuikansalmi | 18.07.2016 |
| | 1. | eemail | 1050 g | Asp | Kuikansalmi | 24.12.2019 |
| | 2. | Ohiampuja | 987 g | Asp | Kuikansalmi | 09.12.2017 |
| | 3. | Month | 974 g | Asp | Kuikansalmi | 12.06.2013 |
| | 4. | Metzgar | 953 g | Asp | Kuikansalmi | 05.12.2017 |
| | 5. | Epi | 923 g | Asp | Kuikansalmi | 17.02.2017 |
TOP-5 Best results in total weight
| | Rank | Time/Min. | Player | Weight | Lake | Date |
| --- | --- | --- | --- | --- | --- | --- |
| | 1. | 10 | andyfischer | 5725 g | Kuikansalmi | 11.10.2019 |
| | 2. | 10 | CTEPX RUS | 5067 g | Kuikansalmi | 08.01.2020 |
| | 3. | 10 | Kerrych | 4485 g | Kuikansalmi | 23.04.2014 |
| | 4. | 10 | Fifi78 | 4422 g | Kuikansalmi | 05.11.2013 |
| | 5. | 10 | Bany | 3896 g | Kuikansalmi | 21.04.2014 |
| | 1. | 15 | Kerrych | 8827 g | Kuikansalmi | 23.08.2015 |
| | 2. | 15 | sven | 7078 g | Kuikansalmi | 09.04.2019 |
| | 3. | 15 | Hammer | 7022 g | Kuikansalmi | 05.10.2013 |
| | 4. | 15 | Wela | 6652 g | Kuikansalmi | 24.11.2013 |
| | 5. | 15 | CTEPX RUS | 6551 g | Kuikansalmi | 29.05.2015 |
| | 1. | 30 | jaristo | 15251 g | Kuikansalmi | 31.03.2016 |
| | 2. | 30 | Pefletti | 15053 g | Kuikansalmi | 10.06.2013 |
| | 3. | 30 | Trapant | 15046 g | Kuikansalmi | 03.12.2017 |
| | 4. | 30 | Fifi78 | 13611 g | Kuikansalmi | 13.01.2015 |
| | 5. | 30 | merlins | 12891 g | Kuikansalmi | 02.04.2016 |
| | 1. | 60 | Teemu (Procyon II) | 17566 g | Kuikansalmi | 06.02.2020 |
| | 2. | 60 | Anatoliu RUS | 17561 g | Kuikansalmi | 21.05.2016 |
| | 3. | 60 | ED | 15267 g | Kuikansalmi | 25.12.2015 |
| | 4. | 60 | exte | 14815 g | Kuikansalmi | 18.01.2018 |
| | 5. | 60 | Kuha-Kalle | 11479 g | Kuikansalmi | 18.01.2020 |
| | 1. | 90 | Ozzman | 20318 g | Kuikansalmi | 04.04.2019 |
| | 2. | 90 | COO | 8452 g | Kuikansalmi | 17.11.2017 |
| | 3. | 90 | Lupu 10 | 6003 g | Kuikansalmi | 07.05.2019 |
| | 4. | 90 | Kuha-Kalle | 5317 g | Kuikansalmi | 27.02.2019 |
| | 5. | 90 | Jycce | 4462 g | Kuikansalmi | 17.11.2017 |
| | 1. | 120 | ESME | 22565 g | Kuikansalmi | 14.01.2020 |
| | 2. | 120 | Ozzman | 21650 g | Kuikansalmi | 25.12.2019 |
| | 3. | 120 | Kuha-Kalle | 9085 g | Kuikansalmi | 17.11.2019 |
| | 4. | 120 | Lupu 10 | 5622 g | Kuikansalmi | 09.01.2020 |
| | 5. | 120 | DMITRIY | 1779 g | Kuikansalmi | 17.11.2019 |