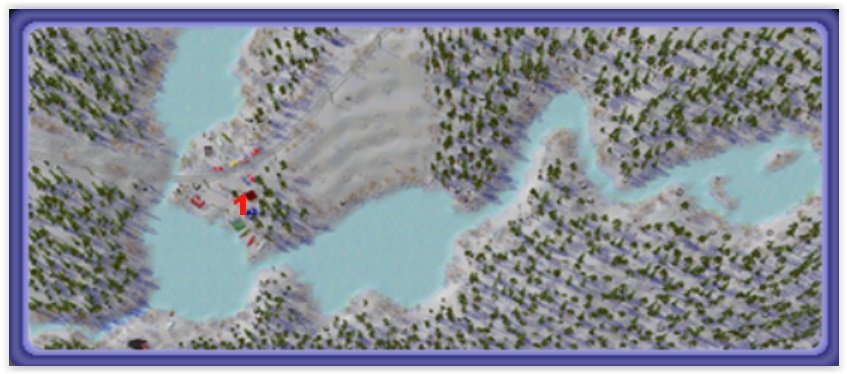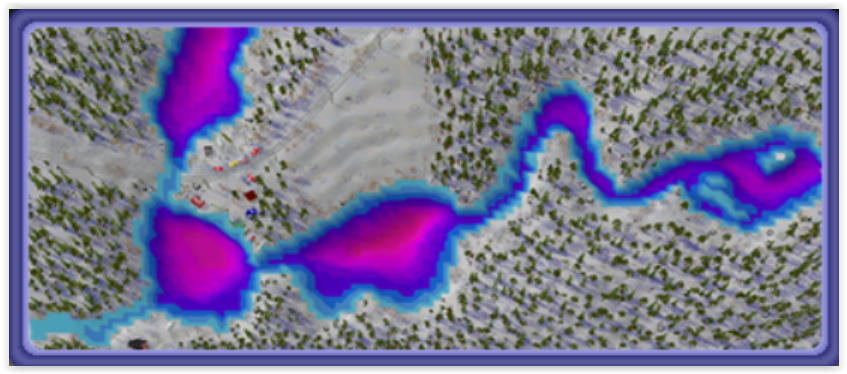 Lake: Lahnalammet
Start Places:
Description:
Lake:
Lahnalammet is a group of small ponds in between of two bigger lakes. Water flows slowly through them providing oxygen rich water for the fish throughout wintertime. Water color is reasonably clear, even though the water is quite nutritious. For this reason, the roach type of fish occure widely.
Fishing:
Fish population consist mainly of small perch and roach with some bigger ones here and there. Especially big breams and ides have been caught. Pikes, of course, live on the area because of the rich roach population.
Fish:
Perch, Ruffe, Pike, Roach, Dace, Bream, Silver Bream, Ide, Rudd, Bleak, Crucian carp.
Species / obtained: 11 / 11
---
TOP-5 Largest fish by species
| | Rank | Player | Weight | Species | Lake | Date |
| --- | --- | --- | --- | --- | --- | --- |
| | 1. | Andrzej_wwg (c) | 923 g | Perch | Lahnalammet | 20.09.2014 |
| | 2. | Holssi | 915 g | Perch | Lahnalammet | 28.11.2016 |
| | 3. | Tomi82 | 910 g | Perch | Lahnalammet | 18.01.2020 |
| | 4. | Arx7. | 907 g | Perch | Lahnalammet | 15.09.2013 |
| | 5. | Happikato | 899 g | Perch | Lahnalammet | 17.06.2013 |
| | 1. | Quu_Ukko | 5096 g | Pike | Lahnalammet | 15.09.2018 |
| | 2. | Lvoff Paul | 4737 g | Pike | Lahnalammet | 25.01.2020 |
| | 3. | janchuks_co | 4466 g | Pike | Lahnalammet | 04.02.2018 |
| | 4. | saaalvis | 4258 g | Pike | Lahnalammet | 10.06.2013 |
| | 5. | Tasuri | 4246 g | Pike | Lahnalammet | 02.12.2015 |
| | 1. | (C)JAWI | 96 g | Ruffe | Lahnalammet | 15.09.2017 |
| | 2. | Top | 96 g | Ruffe | Lahnalammet | 04.02.2019 |
| | 3. | -LD50-FIN | 95 g | Ruffe | Lahnalammet | 28.08.2018 |
| | 4. | ALEX-74 | 94 g | Ruffe | Lahnalammet | 12.08.2016 |
| | 5. | Epi | 94 g | Ruffe | Lahnalammet | 28.09.2017 |
| | 1. | valdoo | 2779 g | Bream | Lahnalammet | 16.07.2019 |
| | 2. | Ded 1 | 2764 g | Bream | Lahnalammet | 24.02.2018 |
| | 3. | Rompe | 2739 g | Bream | Lahnalammet | 14.03.2017 |
| | 4. | lareman | 2695 g | Bream | Lahnalammet | 05.03.2018 |
| | 5. | total | 2653 g | Bream | Lahnalammet | 30.06.2017 |
| | 1. | Heino | 321 g | Silver bream | Lahnalammet | 24.12.2018 |
| | 2. | DzhedayESP | 319 g | Silver bream | Lahnalammet | 04.12.2013 |
| | 3. | Fudis Mauno | 318 g | Silver bream | Lahnalammet | 29.09.2016 |
| | 4. | JiiÄR | 316 g | Silver bream | Lahnalammet | 23.10.2015 |
| | 5. | Marja | 315 g | Silver bream | Lahnalammet | 20.04.2018 |
| | 1. | ezh | 759 g | Crucian carp | Lahnalammet | 01.01.2020 |
| | 2. | lareman | 748 g | Crucian carp | Lahnalammet | 20.01.2019 |
| | 3. | Kalle 68 | 732 g | Crucian carp | Lahnalammet | 06.10.2013 |
| | 4. | barbadun | 717 g | Crucian carp | Lahnalammet | 16.08.2019 |
| | 5. | andrzej | 710 g | Crucian carp | Lahnalammet | 17.07.2013 |
| | 1. | Bengan [SWE] | 26 g | Bleak | Lahnalammet | 16.09.2013 |
| | 2. | JMT | 25 g | Bleak | Lahnalammet | 09.07.2017 |
| | 3. | Krazeral | 25 g | Bleak | Lahnalammet | 06.04.2018 |
| | 4. | Metzgar | 25 g | Bleak | Lahnalammet | 16.11.2018 |
| | 5. | Kaisa | 24 g | Bleak | Lahnalammet | 11.02.2015 |
| | 1. | Juhox | 89 g | Roach | Lahnalammet | 18.04.2013 |
| | 2. | Sandr | 89 g | Roach | Lahnalammet | 22.04.2013 |
| | 3. | Mind Hacker | 89 g | Roach | Lahnalammet | 01.06.2013 |
| | 4. | Rapolas | 89 g | Roach | Lahnalammet | 17.06.2013 |
| | 5. | Mathaeus_23 | 89 g | Roach | Lahnalammet | 13.07.2013 |
| | 1. | kala-akka | 2339 g | Ide | Lahnalammet | 15.12.2016 |
| | 2. | Kanejan | 2310 g | Ide | Lahnalammet | 26.01.2014 |
| | 3. | krister47 | 2286 g | Ide | Lahnalammet | 08.11.2019 |
| | 4. | Tsendsuren | 2285 g | Ide | Lahnalammet | 31.03.2016 |
| | 5. | K.K.Kojootti | 2278 g | Ide | Lahnalammet | 10.06.2015 |
| | 1. | S-driver | 52 g | Dace | Lahnalammet | 17.11.2014 |
| | 2. | Sandr | 52 g | Dace | Lahnalammet | 12.04.2016 |
| | 3. | Sokrates | 52 g | Dace | Lahnalammet | 22.09.2017 |
| | 4. | Kuke | 52 g | Dace | Lahnalammet | 14.12.2018 |
| | 5. | Turxxx | 52 g | Dace | Lahnalammet | 13.05.2019 |
| | 1. | mikoz-28 | 185 g | Rudd | Lahnalammet | 06.01.2020 |
| | 2. | merlins | 181 g | Rudd | Lahnalammet | 08.02.2019 |
| | 3. | Sph1nXz | 180 g | Rudd | Lahnalammet | 12.03.2016 |
| | 4. | Tane | 177 g | Rudd | Lahnalammet | 20.01.2017 |
| | 5. | 777(64) | 177 g | Rudd | Lahnalammet | 17.09.2017 |
TOP-5 Best results in total weight
| | Rank | Time/Min. | Player | Weight | Lake | Date |
| --- | --- | --- | --- | --- | --- | --- |
| | 1. | 10 | Epi | 5507 g | Lahnalammet | 26.11.2015 |
| | 2. | 10 | (C)JAWI | 4685 g | Lahnalammet | 27.08.2017 |
| | 3. | 10 | Pefletti | 4615 g | Lahnalammet | 25.10.2015 |
| | 4. | 10 | mr-YK | 4573 g | Lahnalammet | 27.10.2016 |
| | 5. | 10 | Quu_Ukko | 4453 g | Lahnalammet | 05.12.2017 |
| | 1. | 15 | Sandr | 7315 g | Lahnalammet | 09.11.2015 |
| | 2. | 15 | total | 6608 g | Lahnalammet | 03.10.2019 |
| | 3. | 15 | Armine | 6533 g | Lahnalammet | 21.08.2013 |
| | 4. | 15 | Jallu18 | 6499 g | Lahnalammet | 22.01.2018 |
| | 5. | 15 | barbadun | 6430 g | Lahnalammet | 12.09.2019 |
| | 1. | 30 | CTEPX RUS | 11874 g | Lahnalammet | 01.04.2017 |
| | 2. | 30 | arwills | 11795 g | Lahnalammet | 18.02.2018 |
| | 3. | 30 | valdoo | 11552 g | Lahnalammet | 06.11.2019 |
| | 4. | 30 | Trapant | 11334 g | Lahnalammet | 16.06.2013 |
| | 5. | 30 | total | 10869 g | Lahnalammet | 30.06.2017 |
| | 1. | 60 | vikmars | 13970 g | Lahnalammet | 04.01.2017 |
| | 2. | 60 | ED | 13335 g | Lahnalammet | 03.08.2017 |
| | 3. | 60 | Anatoliu RUS | 12377 g | Lahnalammet | 03.06.2016 |
| | 4. | 60 | Bany | 12126 g | Lahnalammet | 05.02.2015 |
| | 5. | 60 | Kuha-Kalle | 11028 g | Lahnalammet | 20.01.2020 |
| | 1. | 90 | Kuha-Kalle | 11213 g | Lahnalammet | 26.11.2018 |
| | 2. | 90 | Lupu 10 | 5840 g | Lahnalammet | 08.05.2019 |
| | 1. | 120 | ESME | 15867 g | Lahnalammet | 11.03.2019 |
| | 2. | 120 | Kala-Vale | 14796 g | Lahnalammet | 12.12.2015 |
| | 3. | 120 | Kuha-Kalle | 13929 g | Lahnalammet | 05.03.2019 |
| | 4. | 120 | Kuke | 13358 g | Lahnalammet | 12.12.2015 |
| | 5. | 120 | Lupu 10 | 8540 g | Lahnalammet | 22.02.2019 |