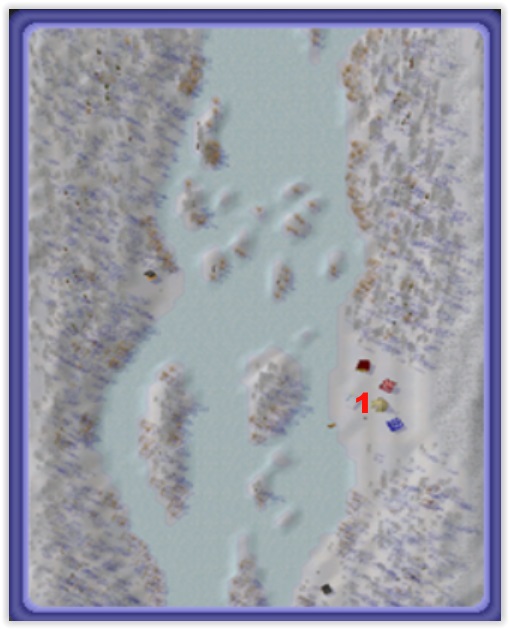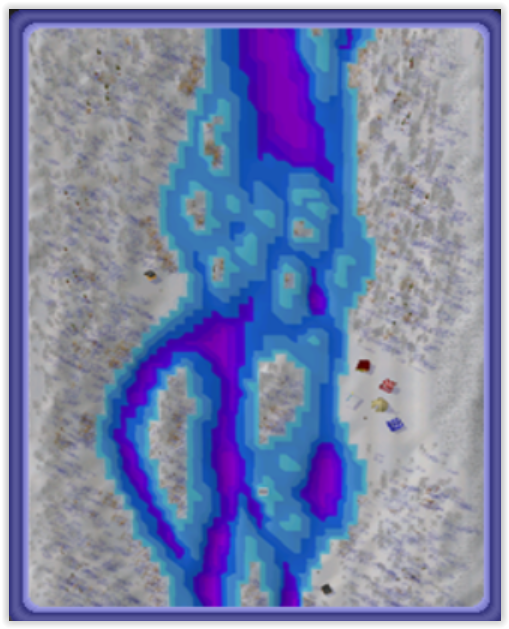 Lake: Siikakoski
Start Places:
Description:
Lake:
Siikakoski is a wide streaming area in northern Finaland. It consists of a shallow rapid area and slowly streaming pools. Water is crystal clear and the bottom is easily visible when peeking to hole.
Fishing:
Rapids attract graylings which can often be found also elsewhere. Sometimes the trout leave the pools and move to rapids. White fish is also common.
Fish:
Grayling, White fish, Trout, Perch, Roach, Pike, Ide, Burbot.
Species / obtained: 8 / 8
---
TOP-5 Largest fish by species
| | Rank | Player | Weight | Species | Lake | Date |
| --- | --- | --- | --- | --- | --- | --- |
| | 1. | Jenka | 382 g | Perch | Siikakoski | 23.12.2016 |
| | 2. | raidu | 368 g | Perch | Siikakoski | 18.02.2017 |
| | 3. | LSKisa | 365 g | Perch | Siikakoski | 18.09.2016 |
| | 4. | Happikato | 363 g | Perch | Siikakoski | 20.09.2016 |
| | 5. | vikmars | 362 g | Perch | Siikakoski | 24.02.2016 |
| | 1. | janib | 1145 g | Grayling | Siikakoski | 13.01.2019 |
| | 2. | RAITIS.LV | 1134 g | Grayling | Siikakoski | 04.01.2020 |
| | 3. | Sointu_ | 1108 g | Grayling | Siikakoski | 23.08.2018 |
| | 4. | Epi | 1099 g | Grayling | Siikakoski | 28.12.2016 |
| | 5. | Znen777 | 1097 g | Grayling | Siikakoski | 21.09.2016 |
| | 1. | Juku6.1 (A) | 1054 g | Pike | Siikakoski | 10.11.2019 |
| | 2. | JNiemi7- | 1044 g | Pike | Siikakoski | 02.03.2017 |
| | 3. | The_emu | 988 g | Pike | Siikakoski | 28.06.2016 |
| | 4. | cichyMonk | 958 g | Pike | Siikakoski | 23.12.2019 |
| | 5. | Junnukka | 938 g | Pike | Siikakoski | 27.10.2019 |
| | 1. | St79 | 1076 g | Burbot | Siikakoski | 18.01.2017 |
| | 2. | KPH | 1040 g | Burbot | Siikakoski | 01.02.2017 |
| | 3. | kala-ukko | 1026 g | Burbot | Siikakoski | 16.02.2017 |
| | 4. | LeaTee | 988 g | Burbot | Siikakoski | 13.02.2017 |
| | 5. | Kaizzu | 926 g | Burbot | Siikakoski | 23.11.2018 |
| | 1. | arturs | 143 g | Roach | Siikakoski | 07.12.2013 |
| | 2. | Tonza_888 | 143 g | Roach | Siikakoski | 09.11.2014 |
| | 3. | JMT | 143 g | Roach | Siikakoski | 09.02.2016 |
| | 4. | Privet | 143 g | Roach | Siikakoski | 01.11.2016 |
| | 5. | JuQmeister | 143 g | Roach | Siikakoski | 10.09.2019 |
| | 1. | Ruoja- | 540 g | Ide | Siikakoski | 16.01.2017 |
| | 2. | Antti | 538 g | Ide | Siikakoski | 06.06.2016 |
| | 3. | agusia71 | 538 g | Ide | Siikakoski | 28.02.2017 |
| | 4. | Elias Mönkkönen | 536 g | Ide | Siikakoski | 10.06.2017 |
| | 5. | Miksu80 | 533 g | Ide | Siikakoski | 07.10.2016 |
| | 1. | Vuotava Saapas | 1308 g | Whitefish | Siikakoski | 13.11.2017 |
| | 2. | Tuxayy | 1236 g | Whitefish | Siikakoski | 04.01.2018 |
| | 3. | WolfTheGray | 1207 g | Whitefish | Siikakoski | 13.02.2020 |
| | 4. | Elovena | 1197 g | Whitefish | Siikakoski | 03.09.2017 |
| | 5. | barbadun | 1179 g | Whitefish | Siikakoski | 22.07.2019 |
| | 1. | Sokrates | 1222 g | Trout | Siikakoski | 16.11.2016 |
| | 2. | 4atlandiya {LuterDark} | 1208 g | Trout | Siikakoski | 16.07.2016 |
| | 3. | Janas | 1193 g | Trout | Siikakoski | 24.08.2017 |
| | 4. | * Assassin SWE | 1183 g | Trout | Siikakoski | 24.01.2017 |
| | 5. | mr-YK | 1176 g | Trout | Siikakoski | 21.06.2016 |
TOP-5 Best results in total weight
| | Rank | Time/Min. | Player | Weight | Lake | Date |
| --- | --- | --- | --- | --- | --- | --- |
| | 1. | 10 | Pefletti | 6437 g | Siikakoski | 03.07.2013 |
| | 2. | 10 | Nighed | 5967 g | Siikakoski | 07.01.2020 |
| | 3. | 10 | Top | 5441 g | Siikakoski | 14.12.2016 |
| | 4. | 10 | Dmitry (EKB) | 4868 g | Siikakoski | 17.07.2014 |
| | 5. | 10 | Pata | 4570 g | Siikakoski | 29.10.2013 |
| | 1. | 15 | Pefletti | 9678 g | Siikakoski | 09.09.2013 |
| | 2. | 15 | #MobyVanKenobi# | 9148 g | Siikakoski | 22.10.2015 |
| | 3. | 15 | Nighed | 8356 g | Siikakoski | 21.08.2014 |
| | 4. | 15 | Fifi78 | 8291 g | Siikakoski | 10.06.2013 |
| | 5. | 15 | Seija | 8267 g | Siikakoski | 22.01.2014 |
| | 1. | 30 | Kergoodoo_Bambarbiya | 15160 g | Siikakoski | 24.06.2016 |
| | 2. | 30 | Nighed | 14590 g | Siikakoski | 08.12.2013 |
| | 3. | 30 | morfeusz | 14461 g | Siikakoski | 09.08.2013 |
| | 4. | 30 | Leszek2 | 14456 g | Siikakoski | 26.09.2016 |
| | 5. | 30 | ALEX-74 | 14147 g | Siikakoski | 10.02.2018 |
| | 1. | 60 | Happikato | 20793 g | Siikakoski | 27.03.2014 |
| | 2. | 60 | Nighed | 20432 g | Siikakoski | 27.08.2014 |
| | 3. | 60 | Valmin (A) | 18359 g | Siikakoski | 05.01.2020 |
| | 4. | 60 | Anatoliu RUS | 17995 g | Siikakoski | 12.01.2014 |
| | 5. | 60 | vikmars | 17737 g | Siikakoski | 21.04.2017 |
| | 1. | 90 | Lupu 10 | 11530 g | Siikakoski | 15.05.2019 |
| | 1. | 120 | Lupu 10 | 16849 g | Siikakoski | 19.03.2019 |