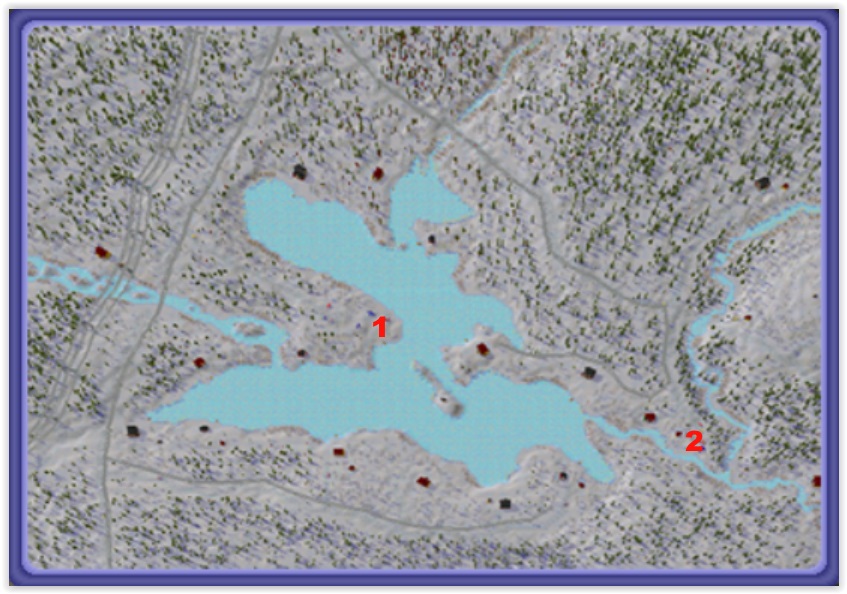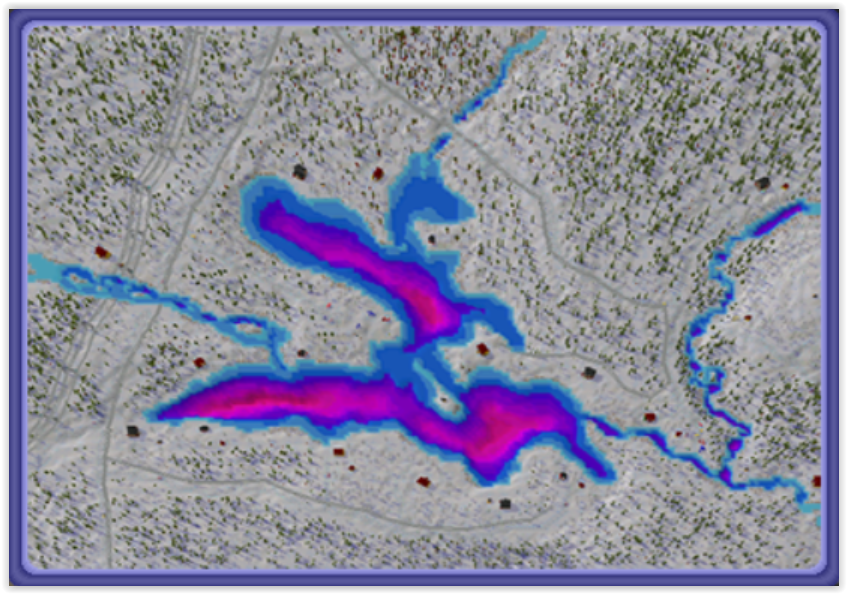 Lake: Saarijärvi
Start Places:
Description:
Lake:
A shallow humus darkened lake with two incoming streams. One outgoing river pushes water downstream towards a bigger lake nearby. The proximity of this bigger lake has a great impact on the fish species of Saarijärvi.
Fishing:
The most commonly caught fish is the perch. There are also some good spots for pike. The zander can also be found in Saarijärvi – they hunt for smelt living near the streaming river area. Trout also appear from time to time for the same reason. Rainbow trout is put into the lake during summertime and sometimes the last of those can still be caught in the winter.
Fish:
Perch, Pike, Ruffe, Roach, Smelt, Zander, Trout, Rainbow trout, Bream, Dace, Bleak, Burbot.
Species / obtained: 12 / 12
---
TOP-5 Largest fish by species
| | Rank | Player | Weight | Species | Lake | Date |
| --- | --- | --- | --- | --- | --- | --- |
| | 1. | Timo Silakka | 1055 g | Perch | Saarijärvi | 26.02.2016 |
| | 2. | Sergey_zt_ua | 1024 g | Perch | Saarijärvi | 23.09.2018 |
| | 3. | Huumar90 | 1012 g | Perch | Saarijärvi | 13.09.2018 |
| | 4. | Liisukka | 996 g | Perch | Saarijärvi | 21.10.2016 |
| | 5. | Muris | 966 g | Perch | Saarijärvi | 15.03.2015 |
| | 1. | _progress1ve | 4149 g | Pike | Saarijärvi | 09.12.2017 |
| | 2. | epe 1 | 4072 g | Pike | Saarijärvi | 09.11.2018 |
| | 3. | 4atlandiya {LuterDark} | 3692 g | Pike | Saarijärvi | 20.09.2015 |
| | 4. | turadiozed | 3517 g | Pike | Saarijärvi | 03.12.2019 |
| | 5. | Galant87 | 3475 g | Pike | Saarijärvi | 13.01.2014 |
| | 1. | Pille | 56 g | Ruffe | Saarijärvi | 06.11.2013 |
| | 2. | Pike | 55 g | Ruffe | Saarijärvi | 28.04.2013 |
| | 3. | Kaisa | 55 g | Ruffe | Saarijärvi | 12.11.2013 |
| | 4. | Sokrates | 54 g | Ruffe | Saarijärvi | 07.12.2016 |
| | 5. | kalakeiju | 54 g | Ruffe | Saarijärvi | 02.05.2017 |
| | 1. | Sirsoni | 1487 g | Rainbow trout | Saarijärvi | 02.04.2017 |
| | 2. | Kuke | 1481 g | Rainbow trout | Saarijärvi | 16.02.2015 |
| | 3. | Moilogin(RUS) | 1455 g | Rainbow trout | Saarijärvi | 02.12.2019 |
| | 4. | Anneli | 1445 g | Rainbow trout | Saarijärvi | 04.01.2020 |
| | 5. | Faari | 1434 g | Rainbow trout | Saarijärvi | 11.01.2014 |
| | 1. | *Kharon* | 1218 g | Kuha | Saarijärvi | 01.06.2016 |
| | 2. | DENIS RUS | 1181 g | Kuha | Saarijärvi | 13.06.2017 |
| | 3. | Oops | 1154 g | Kuha | Saarijärvi | 26.05.2017 |
| | 4. | jacek(cherr) | 1148 g | Kuha | Saarijärvi | 07.11.2013 |
| | 5. | K.K.Kojootti | 1130 g | Kuha | Saarijärvi | 26.09.2018 |
| | 1. | irenka | 40 g | Smelt | Saarijärvi | 08.11.2013 |
| | 2. | Marika | 40 g | Smelt | Saarijärvi | 31.07.2014 |
| | 3. | Smuffe | 40 g | Smelt | Saarijärvi | 02.05.2015 |
| | 4. | *Kharon* | 40 g | Smelt | Saarijärvi | 25.06.2015 |
| | 5. | * Assassin SWE | 40 g | Smelt | Saarijärvi | 15.05.2018 |
| | 1. | Kuke | 507 g | Bream | Saarijärvi | 12.10.2018 |
| | 2. | Trapant | 498 g | Bream | Saarijärvi | 28.12.2016 |
| | 3. | binde | 486 g | Bream | Saarijärvi | 26.09.2013 |
| | 4. | Oleg1 | 486 g | Bream | Saarijärvi | 14.11.2013 |
| | 5. | Daivute(LTU) | 486 g | Bream | Saarijärvi | 14.10.2016 |
| | 1. | Sevy | 3771 g | Burbot | Saarijärvi | 22.11.2019 |
| | 2. | KuKa | 3687 g | Burbot | Saarijärvi | 10.03.2014 |
| | 3. | gunis(irl) | 3669 g | Burbot | Saarijärvi | 01.06.2014 |
| | 4. | Eeber | 3624 g | Burbot | Saarijärvi | 15.06.2013 |
| | 5. | Ketturi | 3533 g | Burbot | Saarijärvi | 14.04.2013 |
| | 1. | Olteri | 63 g | Bleak | Saarijärvi | 08.10.2019 |
| | 2. | Morripoika | 60 g | Bleak | Saarijärvi | 06.03.2019 |
| | 3. | Olka | 59 g | Bleak | Saarijärvi | 17.03.2016 |
| | 4. | Sokrates | 59 g | Bleak | Saarijärvi | 11.02.2018 |
| | 5. | Bender (C) | 57 g | Bleak | Saarijärvi | 08.04.2019 |
| | 1. | Imm | 83 g | Roach | Saarijärvi | 04.06.2015 |
| | 2. | Dented | 82 g | Roach | Saarijärvi | 21.10.2013 |
| | 3. | MoTi | 82 g | Roach | Saarijärvi | 06.06.2014 |
| | 4. | Terhi | 82 g | Roach | Saarijärvi | 27.04.2015 |
| | 5. | essiseo | 82 g | Roach | Saarijärvi | 06.07.2016 |
| | 1. | Tonza_888 | 85 g | Dace | Saarijärvi | 22.09.2019 |
| | 2. | mr-YK | 82 g | Dace | Saarijärvi | 12.11.2013 |
| | 3. | Sokrates | 80 g | Dace | Saarijärvi | 19.10.2014 |
| | 4. | Rampe | 77 g | Dace | Saarijärvi | 26.03.2017 |
| | 5. | Sheriff [Lettland] | 77 g | Dace | Saarijärvi | 03.01.2018 |
| | 1. | sven | 1833 g | Trout | Saarijärvi | 25.08.2019 |
| | 2. | Tiikeri2 | 1716 g | Trout | Saarijärvi | 15.03.2018 |
| | 3. | Lupu 10 | 1715 g | Trout | Saarijärvi | 29.09.2019 |
| | 4. | dafury | 1654 g | Trout | Saarijärvi | 05.08.2015 |
| | 5. | Riboed_ | 1622 g | Trout | Saarijärvi | 06.02.2015 |
TOP-5 Best results in total weight
| | Rank | Time/Min. | Player | Weight | Lake | Date |
| --- | --- | --- | --- | --- | --- | --- |
| | 1. | 10 | Cars | 7426 g | Saarijärvi | 05.05.2013 |
| | 2. | 10 | Bany | 7419 g | Saarijärvi | 06.07.2014 |
| | 3. | 10 | folio olio | 7355 g | Saarijärvi | 22.10.2017 |
| | 4. | 10 | Pefletti | 6978 g | Saarijärvi | 08.08.2013 |
| | 5. | 10 | Kaizzu | 6104 g | Saarijärvi | 15.12.2014 |
| | 1. | 15 | Cars | 13947 g | Saarijärvi | 12.07.2013 |
| | 2. | 15 | z300 | 12193 g | Saarijärvi | 08.08.2013 |
| | 3. | 15 | Firefox | 11627 g | Saarijärvi | 29.08.2014 |
| | 4. | 15 | ALEX-74 | 11509 g | Saarijärvi | 24.05.2017 |
| | 5. | 15 | Serega Ka | 11007 g | Saarijärvi | 16.05.2019 |
| | 1. | 30 | Somm | 25923 g | Saarijärvi | 12.09.2013 |
| | 2. | 30 | jaristo | 25526 g | Saarijärvi | 01.11.2014 |
| | 3. | 30 | Epi | 24753 g | Saarijärvi | 08.12.2019 |
| | 4. | 30 | Fifi78 | 23168 g | Saarijärvi | 18.02.2015 |
| | 5. | 30 | J@k | 21556 g | Saarijärvi | 01.07.2013 |
| | 1. | 60 | ED | 26027 g | Saarijärvi | 03.08.2017 |
| | 2. | 60 | Anatoliu RUS | 22077 g | Saarijärvi | 25.05.2013 |
| | 3. | 60 | Oziyss | 19724 g | Saarijärvi | 27.07.2016 |
| | 4. | 60 | Elias Mönkkönen | 19672 g | Saarijärvi | 29.06.2019 |
| | 5. | 60 | Quu_Ukko | 18583 g | Saarijärvi | 06.03.2018 |
| | 1. | 90 | Cars | 21186 g | Saarijärvi | 21.08.2013 |
| | 2. | 90 | Lupu 10 | 7090 g | Saarijärvi | 15.05.2019 |
| | 1. | 120 | Karhu200 | 20087 g | Saarijärvi | 02.11.2013 |
| | 2. | 120 | xXvakeXx | 17116 g | Saarijärvi | 02.11.2013 |
| | 3. | 120 | ESME | 15088 g | Saarijärvi | 13.02.2020 |
| | 4. | 120 | Kuha-Kalle | 6329 g | Saarijärvi | 31.03.2019 |
| | 5. | 120 | Lupu 10 | 3878 g | Saarijärvi | 12.03.2019 |