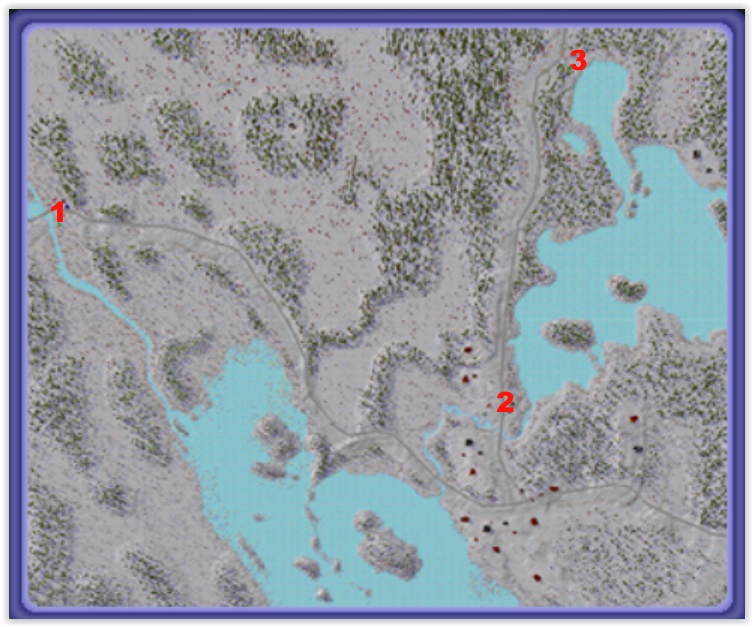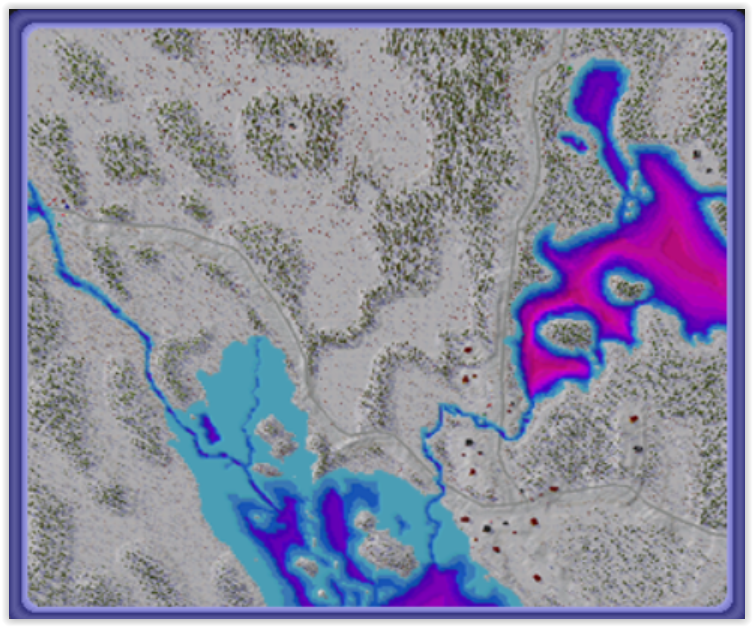 Lake: Vuontele
Start Places:
Aittojoki

1

Koskenkorva

2

Järvenpäänlahti

3
Description:
Lake:
Vuontele consists of two very different styles of lakes and the river between them. Upper of the lakes has more clear water color whereas the lower lake is dark and extremely shallow. Water level is controlled with the bottom damm, causing that water risen to the surrounding land on some places.
Fishing:
The upper lake has a good population of white fish and has even occasional trouts. The lower one is populated by the roach and similar species. Both lakes have lots of perches and pikes. In some places pikes are snapping the lines of fishermen even too often!
Fish:
Perch, Ruffe, Pike, Zander, Trout, Grayling, White Fish, Roach, Dace, Bream, Silver Bream, Zope, Ide, Rudd, Bleak, Crucian carp, Chub, Tench, Burbot.
Species / obtained: 16 / 16
---
TOP-5 Largest fish by species
| | Rank | Player | Weight | Species | Lake | Date |
| --- | --- | --- | --- | --- | --- | --- |
| | 1. | *Loora* | 884 g | Perch | Vuontele | 09.07.2019 |
| | 2. | Pavel (18 RUS) | 868 g | Perch | Vuontele | 15.07.2017 |
| | 3. | PikeTerppa [FIN] | 806 g | Perch | Vuontele | 21.04.2019 |
| | 4. | ESME | 799 g | Perch | Vuontele | 14.10.2016 |
| | 5. | Vidas | 799 g | Perch | Vuontele | 17.03.2018 |
| | 1. | PP66 | 348 g | Grayling | Vuontele | 06.12.2016 |
| | 2. | Väiski | 333 g | Grayling | Vuontele | 22.07.2018 |
| | 3. | Juku6,1 | 331 g | Grayling | Vuontele | 12.06.2018 |
| | 4. | PSIXO | 329 g | Grayling | Vuontele | 26.03.2016 |
| | 5. | ALEX-74 | 329 g | Grayling | Vuontele | 30.10.2016 |
| | 1. | Tiikeri2 | 2300 g | Pike | Vuontele | 09.05.2019 |
| | 2. | *Loora* | 2191 g | Pike | Vuontele | 09.07.2019 |
| | 3. | Janne_83 (A) | 2107 g | Pike | Vuontele | 15.10.2016 |
| | 4. | hauen leuka | 2105 g | Pike | Vuontele | 14.07.2018 |
| | 5. | Baretto | 2098 g | Pike | Vuontele | 08.01.2019 |
| | 1. | Kingfisher | 76 g | Ruffe | Vuontele | 17.11.2013 |
| | 2. | ARSKA | 76 g | Ruffe | Vuontele | 11.04.2014 |
| | 3. | 777(64) | 76 g | Ruffe | Vuontele | 01.10.2015 |
| | 4. | Huhtamaki | 75 g | Ruffe | Vuontele | 28.08.2013 |
| | 5. | Rokas | 75 g | Ruffe | Vuontele | 05.03.2014 |
| | 1. | Tonza_888 | 1030 g | Kuha | Vuontele | 18.12.2017 |
| | 2. | Kottage | 1003 g | Kuha | Vuontele | 05.01.2018 |
| | 3. | Zel | 1003 g | Kuha | Vuontele | 19.03.2018 |
| | 4. | krissan | 1000 g | Kuha | Vuontele | 10.01.2020 |
| | 5. | Sepe Vaari | 967 g | Kuha | Vuontele | 19.01.2019 |
| | 1. | Epi | 1345 g | Bream | Vuontele | 09.05.2015 |
| | 2. | Jymy | 1337 g | Bream | Vuontele | 16.11.2014 |
| | 3. | *Memmu* | 1337 g | Bream | Vuontele | 17.11.2019 |
| | 4. | Antra | 1335 g | Bream | Vuontele | 24.09.2017 |
| | 5. | Vidas | 1317 g | Bream | Vuontele | 17.03.2018 |
| | 1. | jaxon | 5425 g | Burbot | Vuontele | 18.07.2014 |
| | 2. | Pesukarhu- | 5413 g | Burbot | Vuontele | 14.07.2018 |
| | 3. | MikeSod[FIN] | 5406 g | Burbot | Vuontele | 08.12.2017 |
| | 4. | Junnukka | 5404 g | Burbot | Vuontele | 16.11.2018 |
| | 5. | Pauhu | 5368 g | Burbot | Vuontele | 13.12.2017 |
| | 1. | KamAnt | 379 g | Silver bream | Vuontele | 12.07.2013 |
| | 2. | Blacky (A) | 379 g | Silver bream | Vuontele | 04.08.2013 |
| | 3. | Hammer | 379 g | Silver bream | Vuontele | 05.01.2014 |
| | 4. | jontte | 379 g | Silver bream | Vuontele | 06.03.2014 |
| | 5. | Dented | 379 g | Silver bream | Vuontele | 04.06.2014 |
| | 1. | Sandr | 165 g | Crucian carp | Vuontele | 11.11.2013 |
| | 2. | Amarok | 163 g | Crucian carp | Vuontele | 30.11.2016 |
| | 3. | Aki 82 | 158 g | Crucian carp | Vuontele | 19.02.2014 |
| | 4. | *Kharon* | 156 g | Crucian carp | Vuontele | 03.04.2015 |
| | 5. | rojo | 145 g | Crucian carp | Vuontele | 24.12.2013 |
| | 1. | Johanna79 | 31 g | Bleak | Vuontele | 06.01.2014 |
| | 2. | Miikka | 31 g | Bleak | Vuontele | 29.04.2014 |
| | 3. | Alf.red(C) | 31 g | Bleak | Vuontele | 20.11.2015 |
| | 4. | Remi | 31 g | Bleak | Vuontele | 22.09.2016 |
| | 5. | JW | 31 g | Bleak | Vuontele | 28.01.2017 |
| | 1. | Eikku | 186 g | Roach | Vuontele | 26.12.2014 |
| | 2. | * Assassin SWE | 186 g | Roach | Vuontele | 27.05.2018 |
| | 3. | ESME | 185 g | Roach | Vuontele | 01.10.2015 |
| | 4. | MateoDT | 184 g | Roach | Vuontele | 10.02.2014 |
| | 5. | pjoz | 184 g | Roach | Vuontele | 06.07.2015 |
| | 1. | Sevy | 1028 g | Ide | Vuontele | 07.12.2014 |
| | 2. | exte | 1015 g | Ide | Vuontele | 22.07.2014 |
| | 3. | Pilkkijä99 | 995 g | Ide | Vuontele | 24.04.2013 |
| | 4. | sÖssÖ | 989 g | Ide | Vuontele | 25.12.2014 |
| | 5. | jalmari[TKN] | 984 g | Ide | Vuontele | 08.02.2016 |
| | 1. | Terminator | 43 g | Dace | Vuontele | 22.05.2015 |
| | 2. | ED | 43 g | Dace | Vuontele | 29.12.2018 |
| | 3. | Kompler86 | 42 g | Dace | Vuontele | 05.12.2013 |
| | 4. | Arx7. | 42 g | Dace | Vuontele | 13.06.2014 |
| | 5. | Mogge | 42 g | Dace | Vuontele | 24.01.2015 |
| | 1. | Late83 | 1304 g | Whitefish | Vuontele | 17.07.2016 |
| | 2. | George-74 | 906 g | Whitefish | Vuontele | 17.02.2015 |
| | 3. | lareman | 905 g | Whitefish | Vuontele | 19.01.2020 |
| | 4. | kala-ukko | 898 g | Whitefish | Vuontele | 27.02.2018 |
| | 5. | Cousen | 896 g | Whitefish | Vuontele | 17.11.2013 |
| | 1. | Lis | 270 g | Rudd | Vuontele | 04.09.2014 |
| | 2. | Jymy | 270 g | Rudd | Vuontele | 13.11.2014 |
| | 3. | Alio46 | 269 g | Rudd | Vuontele | 24.04.2013 |
| | 4. | Lupu 10 | 269 g | Rudd | Vuontele | 15.01.2014 |
| | 5. | *Kharon* | 269 g | Rudd | Vuontele | 01.06.2015 |
| | 1. | Markku100 | 238 g | Zope | Vuontele | 13.02.2019 |
| | 2. | LeaTee | 235 g | Zope | Vuontele | 29.03.2016 |
| | 3. | COOL | 235 g | Zope | Vuontele | 22.12.2019 |
| | 4. | Jussi.N | 234 g | Zope | Vuontele | 22.02.2018 |
| | 5. | jalmari[TKN] | 232 g | Zope | Vuontele | 28.01.2014 |
| | 1. | *Kharon* | 946 g | Tench | Vuontele | 18.10.2016 |
| | 2. | Marcis_LV | 822 g | Tench | Vuontele | 12.09.2017 |
| | 3. | SupremeSkill | 723 g | Tench | Vuontele | 16.12.2018 |
| | 4. | Crom | 647 g | Tench | Vuontele | 14.04.2014 |
| | 5. | Kebly | 600 g | Tench | Vuontele | 03.06.2015 |
| | 1. | Käppiss | 1973 g | Trout | Vuontele | 21.02.2019 |
| | 2. | Tobbent | 1696 g | Trout | Vuontele | 26.01.2014 |
| | 3. | mianka | 1686 g | Trout | Vuontele | 20.06.2018 |
| | 4. | R.Nieminen | 1557 g | Trout | Vuontele | 22.12.2015 |
| | 5. | Frode A | 1515 g | Trout | Vuontele | 09.02.2014 |
| | 1. | Vendigo1912 | 175 g | Chub | Vuontele | 25.03.2017 |
| | 2. | MeezaN (C) | 156 g | Chub | Vuontele | 17.12.2016 |
| | 3. | Ded 1 | 150 g | Chub | Vuontele | 20.01.2020 |
| | 4. | YURY56 | 148 g | Chub | Vuontele | 08.04.2016 |
| | 5. | smaidinjsh | 148 g | Chub | Vuontele | 18.03.2017 |
TOP-5 Best results in total weight
| | Rank | Time/Min. | Player | Weight | Lake | Date |
| --- | --- | --- | --- | --- | --- | --- |
| | 1. | 10 | Epi | 15403 g | Vuontele | 22.02.2019 |
| | 2. | 10 | Fifi78 | 11260 g | Vuontele | 22.01.2014 |
| | 3. | 10 | Cars | 11075 g | Vuontele | 04.05.2013 |
| | 4. | 10 | lareman | 10494 g | Vuontele | 24.01.2018 |
| | 5. | 10 | Nighed | 9560 g | Vuontele | 08.06.2013 |
| | 1. | 15 | Epi | 17751 g | Vuontele | 17.02.2019 |
| | 2. | 15 | lareman | 17473 g | Vuontele | 23.01.2018 |
| | 3. | 15 | Fifi78 | 15968 g | Vuontele | 25.01.2014 |
| | 4. | 15 | jaristo | 15119 g | Vuontele | 25.01.2019 |
| | 5. | 15 | JMT | 14722 g | Vuontele | 14.06.2014 |
| | 1. | 30 | Epi | 34510 g | Vuontele | 19.01.2019 |
| | 2. | 30 | sven | 34228 g | Vuontele | 16.03.2019 |
| | 3. | 30 | Fifi78 | 33103 g | Vuontele | 30.09.2016 |
| | 4. | 30 | Cousen | 32164 g | Vuontele | 05.11.2017 |
| | 5. | 30 | Cris | 31993 g | Vuontele | 15.05.2014 |
| | 1. | 60 | Epi | 53137 g | Vuontele | 14.04.2018 |
| | 2. | 60 | Olteri | 45170 g | Vuontele | 22.11.2017 |
| | 3. | 60 | Somm | 44156 g | Vuontele | 26.07.2013 |
| | 4. | 60 | Fifi78 | 41151 g | Vuontele | 25.07.2014 |
| | 5. | 60 | exte | 38457 g | Vuontele | 18.01.2018 |
| | 1. | 90 | Nighed | 32214 g | Vuontele | 25.09.2014 |
| | 2. | 90 | Happikato | 32118 g | Vuontele | 05.11.2013 |
| | 3. | 90 | Fifi78 | 31517 g | Vuontele | 30.08.2015 |
| | 4. | 90 | Cars | 27770 g | Vuontele | 03.03.2014 |
| | 5. | 90 | sieppiJ | 22922 g | Vuontele | 19.05.2013 |
| | 1. | 120 | Epi | 50085 g | Vuontele | 15.09.2019 |
| | 2. | 120 | 4atlandiya {LuterDark} | 38678 g | Vuontele | 18.07.2014 |
| | 3. | 120 | Ozzman | 34523 g | Vuontele | 03.01.2019 |
| | 4. | 120 | mr-YK | 34359 g | Vuontele | 02.11.2013 |
| | 5. | 120 | Nighed | 24981 g | Vuontele | 12.08.2013 |